Pay Per Click Ad Campaigns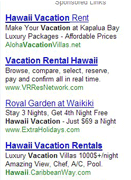 Pay Per Click Marketing, otherwise known as Search Engine Marketing, is a way for site owners to essentially "buy" page rankings on most search engines. These ads are shown when the selected keywords are used in a search. They show up on both the top and right of search result pages on Google, Yahoo and others. The ads are also displayed on sites which display similar content through programs like Google Adsense.
The position in which your Google Adsense ad is displayed generally depends on how much you are willing to pay for each "click". The rates for each industry can vary greatly. While most would be in the $1 range, the most expensive Google Adsense ads are related to mesothelioma attorneys and refinance mortgage loans. You can set daily, weekly or monthly budgets that when reached your ad will stop appearing. Search Engine Marketing can be essential with competitive keywords.
Our Hawaii Search Engine Marketing and Hawaii Pay Per Click Marketing services are also available to new clients with existing websites. Please view our newly developed site dedicated to our Search Engine Marketing services. www.internetmarketinginhawaii.com